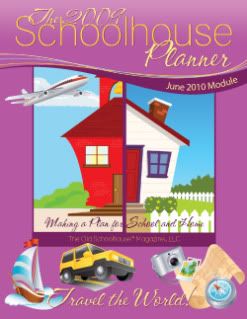 One of my favorite products from The Old Schoolhouse Store is the Schoolhouse Planner. I'm a checklist kinda gal and there are plenty of those in 'The Planner' to make me happy! As if the planner wasn't enough, the great people at The Old Schoolhouse also designed monthly modules as a supplement. Each module is centered around a specific theme with lots of great stuff to enhance that theme. Members of the crew received the
June 2010 Module
titled 'Travel the World!'.
What's Included:
This 56 page e-book is full of great stuff! The first section is 9 pages of information about geography (maps, geographical terms, continents, and oceans). The best part about this section is all the clickable links that take you to many internet sites with lots of great information and fun games. The next section has over 20 pages of worksheets and puzzles (fill-in-the-blank, word search, crossword), lapbook pieces, coloring pages, and copywork exercises. The High school expansion section includes more geographical information and activities for older students. The last few pages have a few recipes and lists of resources for more learning. There's a lot of stuff packed in this book!
What we Thought
: I found quite a few neat things to use as a mini-refresher for TJ. Last year we did a year-long geography study and this was the perfect opportunity to review some of the things TJ learned about. She really enjoyed coloring the continent coloring pages and I'm bookmarking some of the game links for later on. I plan to use them when we do a more in-depth study of the continents.
At $7.95 the Travel the World module can be an affordable jumping off point for a geography study – just add some library books and some activities and you've got a full unit. Interested in learning more? You can see sample pages
here
(pdf) or check out the
Crew blog
to read how other homeschooling families used this e-book.
Disclaimer: I was given this product free of charge for review purposes. I received no other compensation for my review. All views expressed are my opinions only.