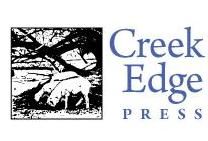 I had never heard of Task Cards or the Task Card Approach until I was introduced to
Creek Edge Press
. Once I learned what they were and how to use them I was intrigued! Instead of sitting with your child and teaching
every
subject, you simply give them a task card along with any needed materials and let them learn and explore at their own rate, which is especially useful for content subjects like history and science.
Amy Kate Hilsman
, the author and creator of Creek Edge Press, shares her journey in creating these cards and how she used them when she started sharing the task cards with her children. Her goal was "
to provide a simple tool that pulls together the best of Classical, Charlotte Mason, and Montessori education... with affordable, topic based Task Card Sets that facilitate discover based, research oriented, independent learning
."
Task Cards (see the sample card below) are topic-based cards that can be used with a variety of ages. Younger children will need some help with the tasks but, as they get older, they will be able to do the cards in a more independent manner. Each card in the various sets includes reading recommendations and various activities. You can see samples of the cards
at the website
.
Chemistry Task Card
What's included
: We received the Chemistry Task Card set, which includes 30 cards and a 13-page comb-bound introduction book. The book includes an introduction and ideas for completing the cards with children of various ages and abilities. There is also a section titled "Approaching the Tasks" that gives you tips and ideas for approaching each item on the task cards. Tasks include a variety of ideas - encyclopedia research, further reading, definitions, sketching & labeling, summarizing, as well as creating booklets, posters, collages, lists, and maps. The book also directs you to prepare your environment, be it a basket or a shelf, with the cards, books, and supplemental material for completing the tasks. It also includes a book list and a description of each card.
The 30-card Chemistry set includes various topics such as:
chemical reactions
mixtures, solutions, suspensions, colloids
molecular structure
the elements and Periodic Table
great scientists
Each card offers a variety of tasks - encyclopedia reading, further research, words to define, writing prompts, etc. The first seven cards cover the basics of chemistry - chemical reactions, mixtures, solutions, molecular structure, and other topics. The next eleven cards focus on elements and the Periodic Table followed by two more cards on chemical composition (acids & bases, synthetics, etc.). The last ten cards focus on great scientists throughout history.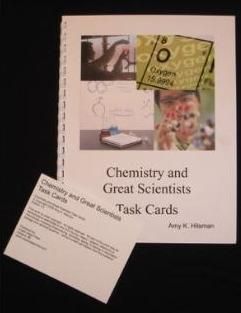 Our thoughts
: I think Task Cards are a wonderful way to get children to really engage in their learning - by giving them the tools needed to study topics for themselves. The Chemistry Task Cards are a nice overview of science but I feel that chemistry is one of those topics that needs more hands-on experiments and labs than these task cards provide. There are cards that recommend a lab experiment but they don't provide any ideas for experiments - the parent and student must find those on their own.
For the most part, the Chemistry Task Cards focus on the Periodic Table and a study of scientists. These two topics cover about 2/3 of the cards. The Periodic Table cards are fairly formulaic. What your child has for tasks about the halogens and noble gases will be the same tasks they will complete for the transition metals. The same goes for the scientist task cards - each card covers two scientists but the tasks are the same for all the cards. This isn't necessarily a bad thing, I just expected more variety across the cards. TJ and I used the scientist cards to read and learn more about different scientists. We read about Louis Pasteur and TJ is currently reading about Benjamin Franklin.
I love the idea of these cards and how they can foster independent learning. I think they would be especially useful for families with multiple children. There are many
sets of cards
for history and geography, science, art, music, and grammar that range in price from $18-$32 (with bundle options available for a higher price). The Chemistry task cards that we had the opportunity to review are $18. Members of the Homeschool Crew had the opportunity to review various Task Card sets. If you'd like to read those reviews be sure to head to the
Crew blog
!

Now for the fine print… I received this product free of charge in exchange for an honest review. No other compensation was provided.