dark chocolate
(that follows the
Trim Healthy Mama
guidelines). This week I'm using that recipe, adding a few ingredients, and making some peanut butter cups. And yes they are healthy!
The first thing you'll want to do is get a batch of that chocolate (or your own favorite chocolate recipe) ready and grab a mini-muffin pan. The first time I made these I put half the chocolate (about 1 teaspoon in each) in the pan, froze it for a few minutes, topped with the peanut butter mixture, froze again, and then topped with the remaining chocolate. You can do it that way, or if you're lazy like me, next time I make these I'm going to just pour in all the chocolate, let that harden, then put the peanut butter mixture on top and freeze again. Either way should work just fine!
So let's get on to that filling! You're going to need your favorite brand of natural peanut butter (stirred really well), coconut oil, vanilla, and Stevia extract powder. Put 1/2 cup peanut butter in a 2-cup glass measuring cup. Add 1/4 cup coconut oil (I prefer the non-coconutty flavored oil for this filling). Then add 1/2-1 teaspoon vanilla extract and stevia to taste. I like about 2 little scoops in mine. Mix it up really well and taste. Add more vanilla or sweetener if you like. Now this mixture could be runny or thick, it really depends on the texture and thickness of your peanut butter.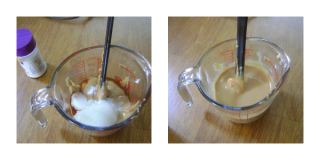 Peanut butter cup filling
Now that your mixture is tasting just right, it's time to pour it in your mini-muffin tin. At this point you should have a chocolate base firm and ready from the freezer. Using a teaspoon, measure out a some of the filling into each of the muffin wells. And lick up the drips, you certainly don't want to waste anything!
Then it's time to pop it back into the freezer to firm up. If you are planning to do chocolate on the top and bottom, pull it back out of the freezer after 15 minutes and pour the remaining chocolate over the top and return to the freezer. Then, when they are completely firm, use the edge of a butter knife to pop them out. Keep them in a container in the fridge because they do get melty!
Skinny Chocolate Peanut Butter Cups
Trim Healthy Mama guidelines: "S"atisfying
1 recipe of
healthy chocolate
1/2 cup all natural peanut butter
1/4 cup coconut oil
1/2-1 teaspoon vanilla extract
Stevia extract, to taste (for me that was 2 little scoops)
Pour 1/2 or all of the chocolate mixture into a mini-muffin pan (depending on whether or not you are doing 2 layers of chocolate). Freeze until firm. While that is firming up, make the peanut butter filling.
Stir all the filling ingredients well and portion out on top of the hardened chocolate. Top with more chocolate, if desired. Freeze until firm. Pop the firm peanut butter cups out of the muffin tin using the edge of a butter knife. Store in the refrigerator.