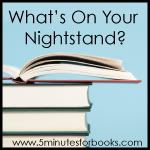 Summer is coming to a close for us - we start a new homeschooling year next Tuesday. It's been a busy month with traveling and visiting family. And now I'm busy painting and organizing shelves so reading time has been fairly scarce! But I did get a bit of reading done on vacation...
I can check off another book on the list of novels in
The Well-Eductated Mind
-
Native Son
(
wrap-up post
). That makes 9 novels completed this year - so I've reached my goal! Next up on the list is Albert Camus'
The Stranger
. I'll be starting that next week - after the painting and cleaning and organizing is finished.
Progress with other reading challenges:
I've scratched off 2 more books (crossover from my
Well-Educated Mind
reading list) for the
A-Z Reading Challenge
(reading through an alphabetical list of books) for a total of 18 books finished for the challenge.
N -
Native Son
O -
Out of the Ruins
(great mystery novel from Sally Wright - I've read a few of these now and enjoyed them all)
Does anyone have any recommendations for book titles that begin with K, L, Q, X, Y, or Z?
The second challenge of the year -
Literary Exploration Reading Challenge
. The goal is to read across a variety of genres through the year (three levels of challenge to choose from). I chose to read 24 different genres - the "Hard" level. I finished 1 book this month for a total of 16 books finished for this challenge:
Inkheart
(We listening to this while traveling to Tennessee. Loooong book but good. Caution for reading with kids - there is some mild profanity by the "bad guys".)
Because I can't totally stick to a reading list - here's what else I read:
Ballet Shoes
- TJ read this one and liked it so much I decided to read it too. Great book for girls.
The Selection
by Kiera Cass (
mentioned here
)
That's it for this month! So, what have you been reading this month?