Knowledge Quest
has just launched their newest book -
A Child's Geography, volume 3: Explore the Classical World
! This latest book joins the previously released volumes 1 & 2 that explore earth science and the Holy Land, respectively.
Knowledge Quest has made a name for itself in the homeschooling world with their high-quality black-line maps and year after year, the beautiful products just keep rolling out! This third volume in the Child's Geography series is certainly no exception. While previous books in the series were written by Ann Voskamp, Terri Johnson has admirably filled the role of guide in book three, and she continues the wondrous journey of adventure that began with the first book. Volume 1 focused on the natural wonder of God's beautiful creation, Earth, before moving on to an exploration of the Holy Land in volume 2. This newest release continues where that left off - with an exploration of the history and geography of the Classical World - Greece, Italy and many of the picturesque places that surround the Mediterranean Sea.
I received the e-book version of this beautiful volume, so this review reflects what you'll receive when you purchase that version. Once purchased, you'll receive a link with all your download information and, once downloaded you're ready to set sail! In your group of files you'll receive:
Map of the Classical world
E-book (224 page text)
Activities
Maps
Prayer Guide
Recipes
Timelines
Travel Log
Extra Reading
If you purchase a physical copy of the book all the extra files will be on an included CD-ROM.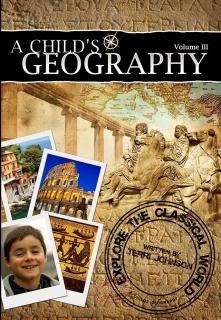 The main part of the program is the beautiful text. It includes some introductory notes, a chapter (or a few!) for each country, as well as a glossary. It's chock-a-block full of beautiful pictures of the places you're learning about. While on your journey of exploration, you'll travel to the following dazzling locations: Greece, Macedonia, Albania, Montenegro, Serbia, Bosnia and Herzegovina, Croatia, Slovenia, Italy, and Malta.
Each of the 15 chapters is an engaging read-aloud perfect for grades 1-6, with discussion questions, a timeline of events, and many pictures that will keep you mesmerized by the gorgeous locations you're learning about. The included files (for the e-book version) or the accompanying CD-ROM (for the hardcopy) include all the extras - activity suggestions, maps, a prayer guide for each country, recipes, timelines, travel log, and book recommendations.
Using the Program:
While there are many parts to the program, it's very straightforward. Start with reading aloud from the e-book, curled up in your favorite chair or reading nook. It's a great combination of history and geography. Don't forget to take time to look at those beautiful pictures! Chapters can be a bit long for those little travelers, so you can always divide the chapter into separate readings. The helpful "Field Notes" sections that separate the chapter into smaller readings are perfect resting places.
After reading, there are so many choices! Start with a map and globe so you can search out these exciting locations and see how far you'd have to travel. Follow that up with a fun activity - you could hold your own Olympic events, make a salt-dough map, or paint a fresco. Don't worry - all the ideas, directions, and links are included! If your family loves to try new foods - why not have an "International Night" and cook some of the great recipes like gnocchi, Slava cake, Turkish delight, or Kannoli. Yum!
If you are lining up your geography study with your history studies the timeline information and travel log are great additions for history and geography. Don't forget to finish your studies with some great books - there are book suggestions for your kids to do their own reading. And the best way to finish out the study of each country? With some prayer. The included prayer guide gives some wonderful information to direct your prayer time for each country. It's a wonderful way to complete your journey.
I've thoroughly enjoyed reading my way through the Classical world - this book is absolutely lovely. While I must admit that I prefer books I can hold in my hand, I don't mind having the e-book version of this one - it's still vivid and beautiful and very easy to use. If you like to take your time meandering through each country you can take 2 weeks to cover each chapter. You could read the chapter during the first week, using the "Field Notes" for narrations, written summaries, or discussions. The following week could be "Activity Time" while you work on projects, cook, read more books, or work on mapping and timelines. If you'd like to use 2 books per year you would want to cover one chapter per week. For a chronological survey of history, combining volumes 2 & 3 is a perfect way to study ancient history. I'm making plans to use both volumes when we return to ancient history next year!
A Child's Geograhpy, Vol. 3: Explore the Classical World
is available in softcover ($34.95) or e-book ($24.95). You can check out more reviews at
Bow of Bronze
!
Now it's time for TWO giveaways!
First up we have one copy of the digital/e-book version of
A Child's Geography: Explore the Classical World to give away!
a Rafflecopter giveaway
Next we have a MEGA-GIVEAWAY!
(Only open to those who have a valid US address)
Included prizes:
A Child's Geography Volume 3 with Wonders of Old Timeline Book ($59.90)
NotebookingPages.com Treasury Membership ($99.95)
Philosophy Adventure Physical set ($89.95)Romans, Reformers, Revolutionaries Intro Pack from Diana Waring ($64.95)
Writeshop Primary Level (winners choice of A, B, or C) ($51.85)
Raising Real Men prize package ($50)
A Journey Through Learning $50 Gift Certificate3 Months A+ Tutorsoft ($49.95)Lilla Rose (2 Flexi Clips) ($32.00)
See The Light (2 DVDs) ($30)
King Alfred's English and Baktar (Laurie White) ($25)
a Rafflecopter giveaway