In our homeschool this week…
our second week was successful - we're finding a nice routine that fits us well. We have a simple morning routine then spend 2 hours on school and lessons that I need to directly teach. We break for lunch, have an hour of quiet time, then reading (aloud and silently), then TJ finishes up any work that she can do independently. It's really nice getting in all the things I need to do and then having some free time to work on other things - housework, blogging, etc. So glad that we were able to settle into a good routine so soon into the new school year!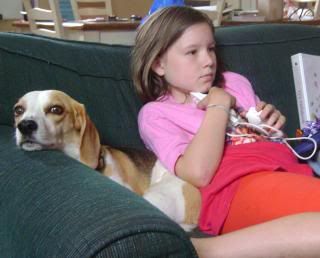 Time for a bit of Skylanders before school!
Here's what we worked on:
Morning routine work
- math rider, typing, recitation, devotions
Math
- 4 lessons in RightStart, still review lessons this early in, a few math games, some Challenging Word Problems, and TJ and Nick read some Fred
Latin
- one lesson in Latina Christiana, some drill, review, and quiz
French
- Nick and TJ played Uno but only spoke French. Uno is a great game to play because, once you know your numbers and colors in a foreign language, there isn't much else you have to learn. We also played a few games of bingo and had a bit of conversation - practicing introducing friends and meeting new people.
Language Arts
- 3 lessons in grammar, 1 step in spelling, and we started using Student Writing Intensive A.
History
- we're reading about the founding of the US right now - a chapter in Story of the World and a biography about George Washington.
Science
- TJ is studying simple machines this term. This week was inclined planes and wheels and axles.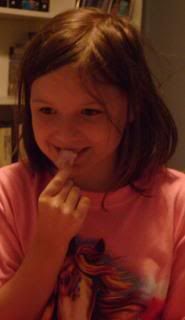 Trying Turkish Delight!
Literature
- we discussed the first 4 chapters of
The Lion, the Witch, and the Wardrobe
and tried Turkish Delight - which was actually pretty good. I found a recipe to make our own and we might try that next week. Our first discussion went well - we both had fun cuddling and discussing the book.
Other stuff
- listened to some Vivaldi, did a bit of geography, a few pages in a health book.
Places we're going and people we're seeing…
busy weekend ahead - church, TJ has a friend coming to stay overnight, errands to run, and dinner with friends.
My favorite thing this week was…
cuddling and discussing Narnia.
What's not working for us…
TJ's handwriting - I've discovered that I really need to crack down on the messy papers. I made her rewrite her experiment page this week because it was so messy. I've told her this week that she'll have to rewrite anything that I consider too messy. We'll see how that goes...
I'm reading…
finished
The Stranger
and waiting for my copy of
1984
to arrive. Also finished an Orson Scott Card novel -
Pathfinder
(really good!). TJ is reading
Little Town on the Prairie
, and finished
Meet Kaya
and
Introducing Vivaldi
. She's reading a Ramona book for her bedtime reading as well as a few pages in
The New Way Things Work
.